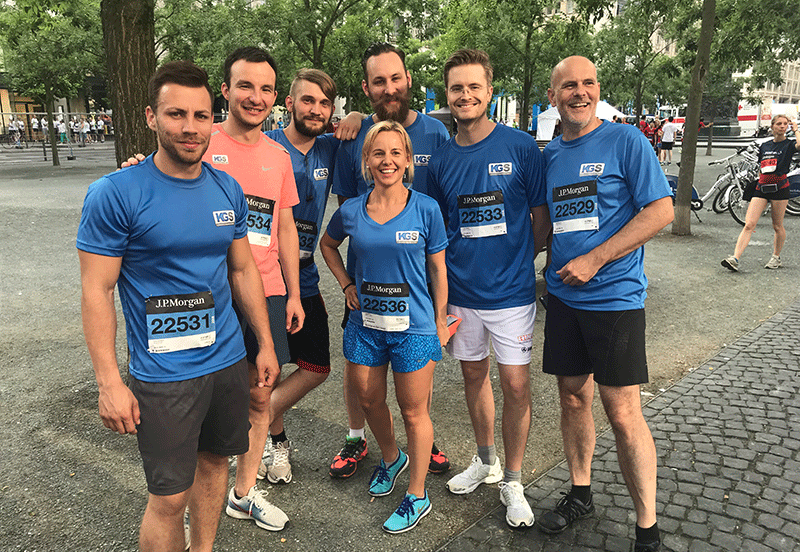 Without calf cramps and in a respectable time, the team of the SAP archive specialist completed the 5.6 kilometers through Frankfurt's city center
It's the biggest corporate run in the world. At the J.P. Morgan Corporate Challenge on June 7, 2018, 63,870 runners from 2,388 companies and organizations throughout Germany jogged 5.6 kilometers through downtown Frankfurt - including seven kgsers. Frankfurt is part of a J.P. Morgan international running series that will take place in five continents, seven countries and 13 cities in 2018. Employees of companies, government agencies and financial institutions are eligible to participate as part of a company team.
On Thursday afternoon, heavy thunderstorms had still moved over the Rhine-Main area. But it cleared up again in time for the start. The entire kgs team arrived at the finish line united and safe and sound, then fortified themselves with a joint dinner, thus living the values conveyed by the organizers: team spirit, communication, collegiality, fairness and health.
The idea for the run originated in New York in 1977: 200 runners jogged through Central Park. In 1993, the company run started in Frankfurt for the first time. J.P. Morgan invited other companies and achieved 527 participants at the maiden event. In the meantime, the Main metropolis hosts the largest running event in Europe. The entry fees are used to support sports projects for young people with disabilities. 255,500 euros in donations were collected in Frankfurt.